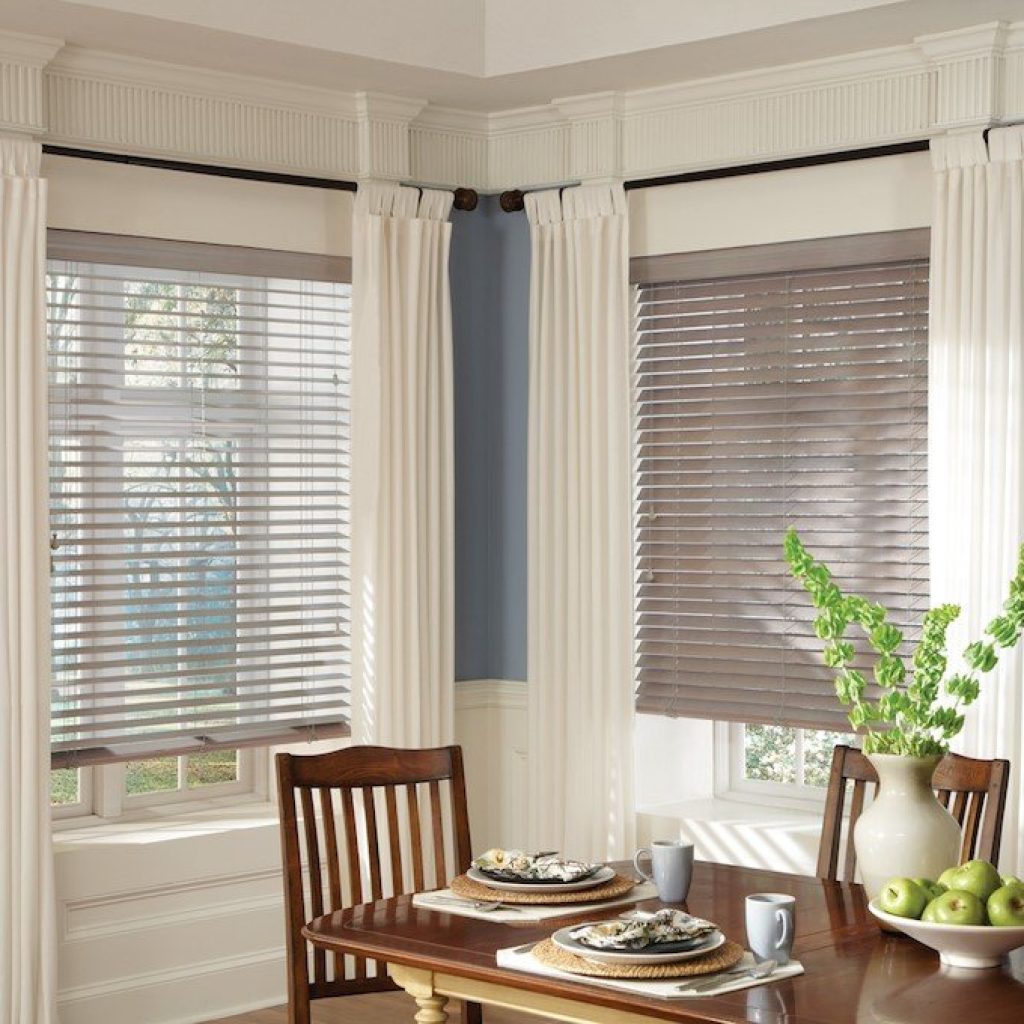 Horizontal Blinds for Wide Windows
For a beautiful, functional window treatment, look no further than horizontal blinds from MK Window Treatments. We are proud to offer custom horizontal blinds for patio doors and windows from Hunter Douglas to homeowners in Cos Cob, Greenwich, Fairfield, and Westchester County, Connecticut. Hunter Douglas blinds are covered by a limited lifetime warranty to keep them looking great for many years.
Materials Used in Horizontal Blinds
Aluminum – Aluminum horizontal blinds offer the widest selection of sizes and colors. Blinds with 1/2-inch slats are perfect for smaller windows and give a contemporary look to the room. Reveal® horizontal blinds with MagnaView® have 2-inch slats that collapse into pairs for a clearer view of the outdoors.
Wood – Parkland® horizontal blinds are made from 100% basswood or abachi. They are available in a wide variety of stains that showcase their natural wood grain, or you can get them in shades of white to match your painted window trim.
Wood-alternative – For durable, man-made materials that offer the look of real wood, consider EverWood® horizontal blinds. These window treatments are made from a wood-alternative and provide an economical window treatment that is great for rooms with high heat and humidity.
Operating Systems for Hunter Douglas Horizontal Blinds
Horizontal blinds from Hunter Douglas come standard with a corded clutch system, where one set of cords is used to raise and lower the blind, and a second set is used to tilt the slats. However, there are several other options available. UltraGlide features a retractable cord that stays the same length regardless of the position of the blind. LiteRise and SimpleLift are completely cordless systems, keeping your windows looking neat and creating a safer environment children and pets.
For the ultimate convenience, Hunter Douglas offers motorized horizontal blinds. Simply push a button on a remote control, smartphone, or tablet to adjust multiple window treatments at the same time. Through an app on your smart device, your blinds can even be set to raise and lower automatically at certain times each day.
Experience these custom horizontal blinds for yourself at our showroom in Cos Cob, Connecticut, and take advantage of our 20 years of window treatment expertise.
Get in touch with us for the price of horizontal blinds as well as any other information that you may need.